Hi and welcome to
Easy Peasy Lemon Squeezy
A place to inspire, share and talk everything kitchen with a side order of lifestyle and social ;)
Tips On Creating The Perfect Vegetable Garden
Tips On Creating The Perfect Vegetable Garden
Lots of us love the idea of having our own vegetable garden where we can grow fresh lettuce and tomatoes for salads, green beans and carrots for the Sunday Roast, and of course some good old potatoes for days when all we're craving is a big bowl of chips.

Images taken from Pixabay used under the Creative Commons license.
To get you started on the road to your own home-grown veg, here's a list of handy tips and hints for making the perfect vegetable patch in your back garden.
Pick the perfect spot
It might seem like an obvious point but all plants need their sun, and a vegetable patch is not going to thrive if it's constantly in shade – in fact, it'll need around five hours of sunshine every day. Take some time to plan the best spot, making sure to avoid anywhere too close to other plants (this will help keep the slugs away) or anywhere that's in risk of getting battered by footballs over the fence!
Get composting
You can pick up bags of soil conditioner from garden shops but if you want to go organic, then get a compost pile going. A compost pile can include fruit and vegetable matter, tea leaves and tea bags, newspapers, kitchen towels and almost anything organic from the garden. Lay your pile on a patch of bare earth on top of some twigs or straw and cover it up, making sure to turn it over and water it occasionally.
Dig deep!
Once you've chosen your spot, you'll want to dig the soil up fairly deep (a couple of feet, ideally) and give it a good turning over. Get rid of any weeds, making sure to pull out all the roots to prevent them from growing back, and take out any large stones. Once you've got your patch ready, starting digging in some of your homemade compost or manure (if you can get your hands on it). Remember: you only want to dig up and turn over the ground that you're going to plant in. Bare soil left without anything planted in it will inevitably get taken over by weeds.
Research your plants
Different plants will need different things (French beans need something to climb, for instance) so it's really important to read up on your planned veg before you put them in the soil. Giving them lots of space is also important, as an overcrowded patch can lead to weak, small plants that produce a poor crop.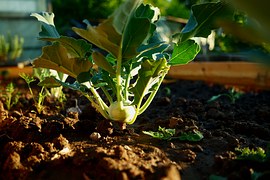 Images taken from Pixabay used under the Creative Commons license.
Get properly equipped
If you want to make the most of your vegetable garden, you're going to need the right equipment Right equipment One of the best ways to do this is to set up a garden shed near to your patch (but not casting too much shade on it) where you can store everything you need and keep your equipment away from the elements.
Making your own vegetable garden can be a fantastically rewarding experience and, believe it or not, the time and expenditure will be well worth it when you try those homegrown tomatoes for the first time.
(Sponsored Post)