Hi and welcome to
Easy Peasy Lemon Squeezy
A place to inspire, share and talk everything kitchen with a side order of lifestyle and social ;)
The Big Easy & Bond
Oh I had a fab Saturday! 'He-who-doesn't cook' (HWDC) is  a massive Bond fan and yonks ago he booked tickets and arranged a day out for us and 4 friends – it was such a good day. We trouped up to London on the train – I whizz off to meet the adorable Simon to get the greys banished at Karine Jackson Hair & beauty. Meanwhile  HWDC  popped to the W for a few drinks while he waited for me. Of course he had to get involved with the W Bond Cocktail
Then off we toddled to meet everyone out side the BIG EASY BAR.B.Q & CRABSHACK – Covent Garden. It's a place  I had never been to before – located centrally in Covent garden.  I'm not normally a fan of these types of places,  but let me tell you I was really pleasantly surprised, what a great place it was. It suited everyone from our 15 year old Nephew Baillie right through to us big kids.
Look at the Bar – impressive by anyones standards – it's 9M long and  boasts over 500 bottles of domestic and imported whisk(e)y, tequila, rum, brandy, aged gin and mezcal amongst other fine liquor.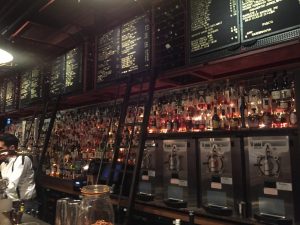 The menu was comprehensive: Burgers, Lobster, BBQ meats etc  – I went for the Big Easy Smokehouse Burger £14.90  it was very good, most of us had this except HWDC had the Lobster 'Mac N Cheese' and Kev had a true meat fest 'Taste-O-Rama'! £19.90 Pit-Smoked Bar.B.Q Chicken, Dry-Rubbed  St Louis PorkRibs, Carolina Pulled Pork and Texas Brisket (and he left some 🙂 ) What I particularly loved was that it was just good quality non fancy tasty nosh!
The quality of food and the service (helpful, quick and efficient) were excellent – we were in there less than 90 minutes and strolled round to the cinema with ample time. A fab place to go before or after an event when you are on the clock. Bonus is you also get a plastic bib –  yes we needed them 😉 ) For the kids there's a separate menu £9.90 for main course, side and dessert!
I didn't realised but there is also a Big Easy on the Kings Road and at Canary Wharf – it's a perfect place for families
I also managed to get a bit of Easypeasylemonsqueezy in the Big Easy too!  If you fancy it I can definitely recommend the BIG EASY! Check it out http://bigeasy.co.uk/#covent-garden
Then it was time. Time for my date with Mr Bond! It was really nice to be in Leicester Square for the showing (seats were very uncomfortable though!!) busy and bustling as always
I LOVED Spectre  – totally. For me Mr Craig is the perfect Bond – it's almost like the whole Bond thing has grown up! So will he do another? who knows….. I really hope so
NOT SPONSORED