Sunday roast in Chelsea
Well today was a very special day.
One of those days that really feels like the weekend & RESULT it was warm and sunny too (finally) London looked just beautiful! I have been toying for a while, as to if I should blog restaurants and pubs and the general consensus is yes, so here goes (I'll always be honest!).
Mind you I won't be blogging them all, just those that I think you might like!
So destination 'Sunday Lunch' was Lots Road Dining Rooms in Chelsea
It has for many years been a place of celebration for us! Usually when Chelsea FC have won something (alas NOT this season) and I am then the dedicated driver.
Looks quite understated from the outside (you might walk straight past) but it is JUST my sort of place in side, low key, relaxed, lovely staff and VERY good food and today was no exception!
The Best Sunday Roast in Chelsea (for me anyway)
Today was about seeing Chelsie in Chelsea! We had such a great chilled family day :-).
HWDC was the driver (yey!) we were early so we kicked off with Flat whites and a sneaky Hoegaarden for me – well it was after 12 after all!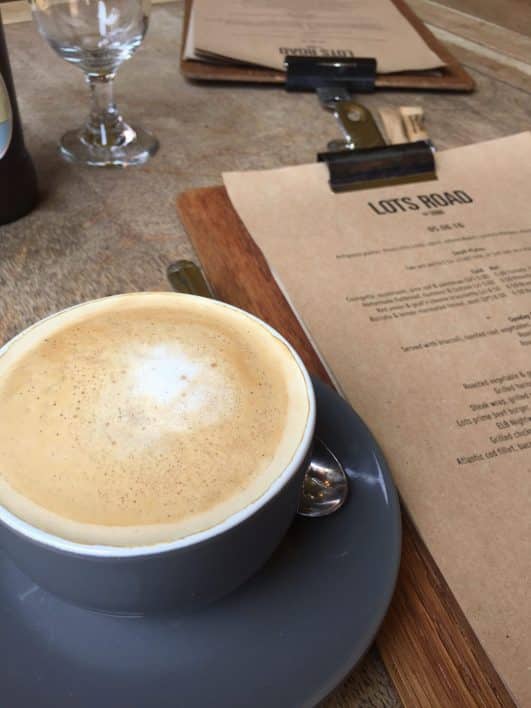 I just love this place, I love the understated style and the relaxed atmosphere, it's such a lovely airy building!
Perfect just for a bevy or for a full family meal, always such a variety of different people in there and so friendly…. I suppose that's why it's called a dining room?
And then to the great food
What I like about it is you can have as little or as much as you like and it all comes out together, no fuss.
So I had the Roast Beef cooked medium (perfect – it barely touched the sides), HWDC a steak Wrap & fries, Bun and G just some nibbles, all were great.
In fact I have never had a dodgy meal here ever.
And it's not the earth – My Sunday Lunch was £16 we all had 3 drinks (maybe 4) coffee's and food – there were four of us and it was £90 all in!
If you are ever in London and fancy a nice walk along the embankment into Chelsea away form the hustle and bustle I would highly recommend this one!
(Slightly different place on Match Day mind) for me the best Sunday Roast in Chelsea
(NOT SPONSORED)