Hi and welcome to
Easy Peasy Lemon Squeezy
A place to inspire, share and talk everything kitchen with a side order of lifestyle and social ;)
The Star Inn Great Dunmow. What's in a name?
The Star Inn Great Dunmow. What's in a name?
Well it would seem quite a lot! I have been going to The Star Inn Great Dunmow (but with 2 R's) which was a fine dining restaurant for many years – it really was quite excellent, however who wanted to pay circa £150 per head for a meal that often!
Then a few years ago it changed to Fulton's Chop House and I'm not that sure that worked, less said about that the better.
Anyway a couple of weeks ago it became The Star Inn! (1 R)- renamed and refurbished.
Woo Hoo! Friday night my dinner partner and I (ssshhhuuuuush) had the pleasure of dinner, as part of a blog review by Easypeasylemonsqueezy! (someone has to do it Obvs 😉 )
In my opinion one of the most beautiful buildings in Great Dunmow is The Star Inn, it sits spectacularly at the top of the hill in North Street.
A really lovely old building and staying true to the history of the building it has brought alive the very original Star Inn logo as shown on this 1902 photograph on King Edward VII coronation
The Food
So to the very important part – THE FOOD. The menu is what I would call – cool! and more importantly totally flexible.
Cleverly the guys at The Star Inn have created a sort of 2 tiered affair. One side small (tapas esk) style sharing plates with such yum stuff as Salt & Pepper Squid / Puy Lentil Scotch Egg / House Smoked Beetroot and loads of other stuff!
Me and my (date) – being the piggies we are, had 3 of these small plates for starters (starters were also excellent, by the way) – well why wouldn't you? (prices range from £4.50-£9)
And they delivered – big on flavour! – yes really….
The Main Event
So to the main event (ranging from £9-£28 for Bone in Prime Rib Steak) – what great choices from Scottish Halibut to Superfood Salad.
I had Beer Battered Haddock and 'A' had Great Garnets Pork Belly (and might I add most of my Chips 🙁 ) – it didn't matter at this point we had both drunk 'many' Hayman's Old Tom Gin and a rather wonderful bottle of Rioja! – £30) as I was stuffed!
The wine list? – really good with bottles ranging from £15 – £115 with the majority around the £30 mark)
I only managed to snap one of out main courses, I think I was too busy eating (or drinking!) Look at that Belly Pork!
The Pud
Next to pud – I was so full, but we managed (in the name of the review – clearly) to squeeze in a chocolate Brownie (sharing obvs) with Pistachio Ice cream – my fave! Yum!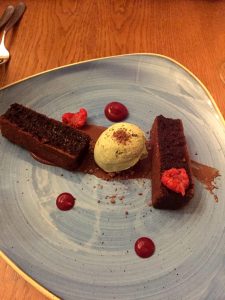 What I loved about The Star Inn is that those guys proudly source their ingredients locally! Has to be a good thing – yes?! I'm all for local, honest and beautiful ingredients…..
Service
Service was really good, attentive but not in your face.
One thing I can't personally abide is constant "is everything ok madam?' every 5 minutes. Totally unnecessary – once I say is enough and then be sure I'll let you know if I'm not happy! 🙂
So how has the place actually changed?
Pleased to say not on the outside (so beautiful) apart from the new signage.
Inside the bar area has been given a total face lift with lovely cream leather seating and cushions that would look so great in my new house 🙂 watch out!
The dining area is much more intimate than before but still spacious.
The restaurant was full with large and small tables of guests, all having a great time. It was as you'd expect on a Friday night, fun and loud!
I imagine Sunday lunch would be fabulous too, a wonderful venue for the whole family!
Totally family friendly. Such a nice atmosphere. Looking forward to a roast there one day soon…..
So pop along and have a gander – The Star Inn! What's in a name?
It would appear quite a lot! WELCOME BACK (hurrah) The Star Inn to Great Dunmow – Easypeasylemonsqueezy will certainly be back (and it's spitting distance from my house – who's a lucky girl 🙂 )
Check them out on FaceBook The Star Inn Great Dunmow! What's in a name?
Cx
NOT SPONSORED – however the review was in return for our lovely meal – Thanks Cx