Hi and welcome to
Easy Peasy Lemon Squeezy
A place to inspire, share and talk everything kitchen with a side order of lifestyle and social ;)
Resisting the Urge to Splurge – ClubForty
I am so delighted that my lovely friend Claire who is the author of:
Club Forty Blog  – INSPIRED BY STRENGTH, STYLE & OPTIMISM
has agreed to guest post for us! Claire is so straightforward (a lil like me) and shows us some great style fashion tips , trends and bargains! Go sign up and have a read over on her blog by following the above link.
Here Claire shares the art of 'Resisting the Urge to Splurge' and boy do I need this 🙂  Cx
Resisting the Urge to Splurge
Spring is in the air and you may, like me, be thinking about re-organising your wardrobe. Retailers are on to this too. There are sales and big promotional discounts around right now as they need to shift the transitional stock to make room for summer clothes.
The sales… I find them hard to resist.
I literally have to avoid going into shops or browsing online because the temptation of scoring a bargain is too high.
Right now I am really trying to resist the urge to splurge.
I am learning to avoid emotional purchasing – that is, snapping up something because I simply LOVE it – and taking a more practical and dare I say it, sensible approach to sales shopping.
The clothes I buy need to suit my lifestyle. They need to be functional. There is no point in buying fantasy-life clothes. I need to think honestly about what clothes I will actually wear,
I work part-time and the work I do is predominantly from home. When I am not working, my week is spent on the school/after-school-club runs, dog walking, house chores, errands and keeping fit… with a scattering of lunch dates and evenings out per month (if I'm lucky!)
So even though I lust after cool and sophisticated, fashion-forward clothes that would suit a girl-about-London-town running from glamorous meetings to glitzy evening engagements this is, obviously, not my reality.
A case in point was a recent browse of the M&S sales rails. I came across the gorgeous dress below, reduced to an affordable £34. It would be fabulous to wear for a high-powered meeting or formal occasion – I have neither. So even though I adored it, I sadly, but sensibly, put it back on the rail.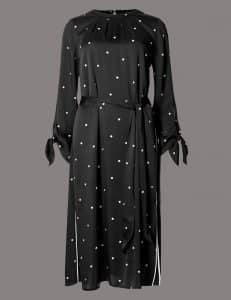 Despite the well-known, inspirational, fashion-y quotes such as "Dress like you are going to meet your worst enemy" (Kimora Lee) and "Life is a party, dress for it" (Audrey Hepburn), I would simply not have had the occasion to wear this dress. It would be wasted on the school run and look ridiculous with my wellies on a muddy dog walk. And I'm sure I would feel overdressed if I wore it on a night out to our local pub (which is as out-out as my evenings get these days).
You may be thinking that this sensible approach takes the fun out of clothes shopping. But it doesn't, not to me at least. I have previously written about my Philosophy when it comes to buying clothes . I enjoy making my wardrobe 'work' (it's the control freak in me!) Plus, I am quite frugal and dislike wasting money on clothes I never wear.
Don't get me wrong, I do love a high-fashion number, but I won't spend a huge amount on it. Did you see my recent Bargain purchases from Matalan ?
So whilst I am definitely keeping an eye on the current sales, I may or may not buy anything this time around.
What do you do when you see amazing clothes reduced in the sales? Are you one to splurge? Or do you take a more sensible approach?
Thanks for reading… look out for my upcoming post where I'll be picking out all you need for a capsule wardrobe for Spring.