Hi and welcome to
Easy Peasy Lemon Squeezy
A place to inspire, share and talk everything kitchen with a side order of lifestyle and social ;)
Lollies lollies Everywhere
Lollies lollies Everywhere
School is out for summer! so that must mean Lollies?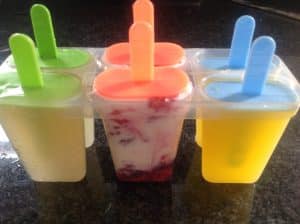 Have a go at these – try all sorts and get the kids making them!
So the Kids are off school, it's Hot Hot Hot – it's lolly time! Why not make your own?
Give them some good stuff and get them making them too …… (I bought my lolly moulds from Amazon about £3, or just use empty small yoghurt pots or plastic shot glasses with lolly sticks)
Lolly Flavour ideas
These are my ideas for you – but remember you can do anything!
Elderflower and Apple Lolly
(adults add a splash of gin) Simply use cloudy apple juice with a drop of elderflower cordial and freeze
Creamy Summer Berry Lolly
Take low fat greek yoghurt, mix with a couple of tsp runny honey and as many crushed berries as you like, I used cherries and raspberries
Simple Orange Lolly
I used low sugar Tropicana – simple
You can use crushed fruits, yogurt, milk, honey to sweeten.
You can make layered lollies with yogurt and juice (freeze each layer in turn)
Traffic Light Lollies
Why not try traffic light ones, using mangoes, kiwis and strawberries.
You can crumble biscuits in the bottom , coat with a little chocolate , anything!
Go on get creative, its fun …. the only – issue waiting for them to freeze (about 3 hours) Enjoy Cx
Come on I'd love to see your lollies – please drop me a comment below the post!
I do so love to get your comments Cx