Hi and welcome to
Easy Peasy Lemon Squeezy
A place to inspire, share and talk everything kitchen with a side order of lifestyle and social ;)
Easy Peasy Chinese (y)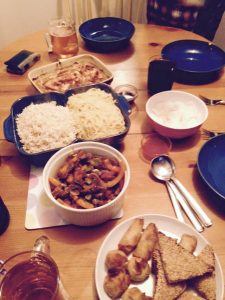 How lovely one of my lovely Easypeasiers posted me a photo of a Home Made Chinese meal they made, rivalling a take away – made from my recipes on Easy Peasy – how lovely. Let's just call it a fakeaway
Carole made 'Crispy Chilli Beef with Noodles ' Lemon Chicken with Egg Fried Rice – looks delicious! There are also many more recipes on the blog!
Do you but takeaways often? Why not skip it and have a go at an easy dinner recipe from the blog! You might be surprised that you like it even better than your fave takeaway?
Easy Peasy Chinese – what more could you want!