Hi and welcome to
Easy Peasy Lemon Squeezy
A place to inspire, share and talk everything kitchen with a side order of lifestyle and social ;)
Comte Evening = FUN!
Comte Evening
I was lucky enough to be invited to attend a cookery course hosted by Comte Cheese at Divertimenti in Knightsbridge. What a  a wonderful evening which spent with journalists and bloggers. And do you know what it was great to get stuck in and get my hands dirty! Loved it!
First we learnt lots about Comte Cheese – have you tasted it?  – it's very good!
Comte Facts
Comté is a long lasting hard aged cheese, made in the Jura Massif in Franche-Comté region in Eastern France, close to the Alps for over 1,000 years. It is made from the raw milk of Montbéliarde cows by artisans without any additives.
Comté has its own personality depending on various factor, s such as the production area and the season. In addition to this the natural making process and the ageing period also have an effect.
It comes in wheels about 60 cm in diameter, 10 cm high and 40 kg in weight.
Comté is widely loved in France and the world by its infinitely rich flavours and natural taste. Its production volume is No.1 among all the French AOP (Appellation d'Origine Protégée)* cheeses. (Annual production volume of Comté in 2015 reached 65 000T = 1 600 000 wheels)
*What is AOP?
It is the EU system of protecting products made in the limited area by traditional methods under strict rules.
It tastes so delicious and is amazing in baked products, sauces and most types of cooking.
Divertimenti
Divertimenti, the ultimate Cookshop, has been the food lover's favourite since the sixties.
They have over 6,500 items of professional quality cookware and tableware – including unique hand decorated pieces – utensils, kitchen electricals and cookers. If they don't sell it you don't need it. IT IS MY IDEA OF HEAVEN!
They stock an enormous range of cooking utensils, pots and pans, copper, earthenware, hand decorated tableware, oriental utensils, cutlery and glassware – in fact just about everything a food lover could possibly want.
Put it this way I did a double shufty when I left as I would have spent a fortune.
We made 2 dishes whilst we were there and I have decided to share with you one of them. It really was so simple and easy  and it's totally divine. The combination of flavours is quite delicious.
It would be a perfect lunch and ideal  for picnics and lunch boxes.
If I'm short of time I would definitely buy the puff pastry and be done with it 🙂
I do have a wonderful recipe for twice baked Comte Soufflés – should if you'd like it
Cx (Cheers)
Not Sponsored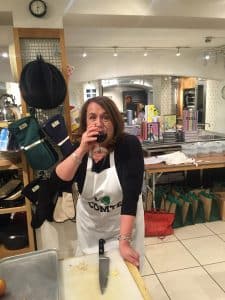 Ingredients
Onion tart with apples, bacon & ComtéServes 4
For the pastry
250g strong white plain flour, plus extra for dusting
½ teaspoon fine sea salt
250g unsalted butter, cut into small chunks
About 75ml cold water
For the filling
3 tablespoons light olive oil
400g yellow onions (about 4 medium onions), thinly-sliced
4 cloves garlic, crushed
1 bay leaf
A sprig of fresh thyme
1 crisp eating apple
8 slices streaky bacon
200g Comté, sliced (18 or 24 months aged would give a deep, nutty taste)
Preparation Method
To make the pastry: sift the flour and salt into a large bowl. Add the butter and rub in loosely (you need to see bits of butter). Make a well in the bowl and pour in the water, mixing until you have a firm rough dough (add extra water if needed). Cover with cling film and refrigerate for 20 mins.
Put the pastry onto a lightly floured board, knead gently and form into a smooth rectangle. Roll the dough in one direction only, until 3 times the width, about 20 x 50cm. Keep edges straight and even. Don't overwork the butter streaks – you should have a marbled effect.
Fold the top third down to the centre, then the bottom third up and over that. Give the dough a quarter turn (to the left or right) and roll out again to three times the length. Fold as before, cover with cling film and chill for at least 20 mins before rolling to use
When the pastry is chilled, roll it into a square just over 1cm thick and cut it into 4 equal-sized pieces, then roll these out until 3mm thick – they should be about 18cm to 20cm diameter. Stack the pastry squares with squares of non-stick parchment in between, cover and refrigerate.
Make the filling: warm the oil in a large frying pan, add the onions and a pinch of salt. Cook over a medium heat for a few minutes, until the onions start to colour. Lower the heat and stir in the garlic, bay leaf and thyme. Cook until the onions are generally golden and tender, but not mushy – about 15 minutes in total. If they dry out, lower the heat and cover the pan. Cool the onions completely, remove the thyme and strip the leaves into the onions. Discard the bay leaf.
Cut the apple into 1mm slices. Cut the bacon into 1cm strips, place in a small frying pan over a low heat for 2 minutes until the fat starts to melt into the pan. Drain off the fat, remove from the heat and toss the apple slices with the bacon.
Heat oven to 205˚C (185˚C fan).
 Remove the pastry squares from the fridge and lightly score a 2cm border around the edge. Place the squares (on their parchment) onto 2 baking sheets. Divide the onion mixture over the pastry, staying within the border. Press in the warm apples and bacon, ensuring they lay flat (or they will burn). Lay over the slices of Comté, fold up the pastry edges and bake for about 20 to 25 minutes until the pastry is rich, golden brown. Serve immediately.