Hi and welcome to
Easy Peasy Lemon Squeezy
A place to inspire, share and talk everything kitchen with a side order of lifestyle and social ;)
Tracey's Breast Cancer Journey – our Christmas Angel
DECEMBER 14, 2015 ~ TRACEY BRITTEN
Lots has been happening these past couple of weeks that has been making me feel on top of the world. Seriously I just can't stop smiling! I am so weird! And before you say it, no it's not the drugs as I save them for night time if I really can't cope!
It's Christmas
My house is looking a lot like Christmas! Last weekend me and Freya had fun decorating everywhere. For the first time ever I bought an artificial christmas tree so it can fit nicely in our hall. Freya got my 20 years worth of christmas decorations out – OMG you could not even attempt to move anywhere – I think I have an addiction. The tree is total overkill but it looks fab! We have fluffy owls to mushrooms on it! Very colourful!
We had our Christmas village open night which was wonderful – we live in such a lovely village. My mum and sis came and we took Amora to see all the lights, eat lots of crisps and of course see Santa. Then I cooked us a mini christmas dinner. So love my family and I can't wait til we can all be together again on Boxing day. I am more excited this year than ever!
Craft
I also got invited to craft evening by my friend, Kirsten. Wasn't feeling so great as usual but I've decided that I must try and ignore this (unless I can't actually walk of course!) so thought I'd try and go for a little while and try not to think about it.  Mind over matter works and doing something busy really helps me.
I got to meet up with lots of girls I haven't seen for ages, bought some nice presents and to top it off Alex showed us how to make our own wreaths. Needless to say I was smiling like a cheshire cat all night (with no alcohol!) – best night for ages – I absolutely loved this. Totally wiped out the next day but so worth it. Thank you so much Alexia Jones – I don't think you actually realise how happy you made me!
And here's my wreath. Next year I would love to make these as gifts for my family and friends if I can get organised!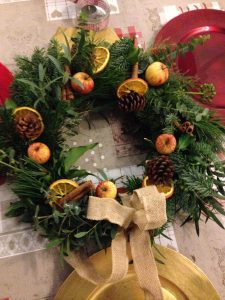 We then got the best Christmas good news ever that the cancer has not spread to my bones and my pain is just due to the drug concoction and the operation! Yippee! Although I was quite sure of this, it's still so good to know for sure! I am hoping it means the drugs are working well – that's what I'm telling myself anyway.
We also had a scare with my sister-in-law, she's been having chest problems so went to get checked out and they found some shadows. But all is clear – it's not cancer, thank god. She still has some tests to go through to find out what it is but they don't think it's too serious.
Herceptin
Next, I had my Herceptin number 9 on Wednesday. This means I'm halfway and it was really quick – usually it takes all morning but I was finished by 10am! So more brilliant news – such a milestone and so good that my body is tolerating this important part of my treatment. My heart seems to be good – I am sure my swimming is helping, and my bloods are good too – I am sure this is down to the daily smoothies – I've recently discovered baby kale too
Super Smoothie
This is my super smoothie every morning (or a variation of it – handful of spinach/kale, banana, lots of red and black berries and coconut water). I'm also feeding myself up with porridge too! Need to have some curves for christmas as I'm fed up looking like a boy!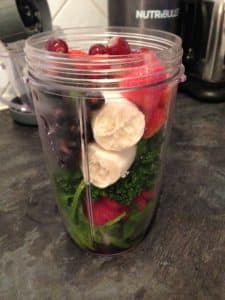 Implant
Friday, was implant day. I had also booked in my smear test that was due. Joy of joys. The smear was a breeze compared to what I've been through.
But the Zoladex implant didn't go so smoothly as my injection wasn't ready! I was quite stressed as I need to have this the same day every month. I think I have a day or so either side leeway but still not good. Think I forgot to order or the docs did, doesn't matter but it wasn't there and they had no secret supplies!
Luckily they made me a prescription super quick and I phoned around pharmacies and my lovely ladies from my old Co-op Pharmacy in Halstead came to the rescue. Maybe this was meant to happen so I could go and say 'hi' – thank you girls!
So with injection in hand off I went to see Dr Cochrane – doctors don't do this normally, it's a nurses job, but needs must! He is lovely, but so funny, bless him. I asked him to use the freeze spray and he froze my whole middle body – I am sure he used half a can! So glad he did as it was tricky getting the HUGE needle into my skin.  He had to push so hard I thought it was going to come through the other side! Plus I can now pinch an inch of flesh so I thought it would be easier! But it's done now for another month.
May see if I can have the 3 monthly implant. Not sure how brave I feel as that's even bigger!
The hot/cold sweats are getting worse though. I am constantly putting on clothes and taking most of them off throughout the day. It's even worse of a night – poor Phil hasn't been able to sleep as he feels the heat radiating from my body – it's like sleeping next to a hot spring! He's used to me cold! Grrrrrrr to super fast menopause! Feel for all you menopausal women out there. Not fun, but the new hot body thing seems to be helping with the bone pain – interesting!
My Hair
And check out my hair growth in just a few weeks, still really curly….. I look like a member of the Incredibles when I towel dry it! 6/7 months growth now! Talking about super hero – look what our friend Chris (in America) drew for me! Wonder Woman! Love it!
We're all suffering from bad throats, colds, coughs at the moment – it hurts so much to cough or sneeze. We've all been poorly – I have a lot of admiration for my family though as they don't sit around moaning – they just carry on and work through it. Nathan has been bad all week but carried on with school, exams and work.
Wedding
Just typical though – just when we have Jane and Gary's wedding weekend! But there was no way I was going to miss this day for the world if I could help it. Unfortunately it meant that we couldn't make it to their pre wedding drinks and morning breakfast but we made it to the big day.
So Sunday arrived. I can't believe how quickly this has come round. Jane and Gary are getting married! Ta da da da, ta da da da – I was beyond excited for them as I love a fairytale and they are my fairytale happy ever after. What an absolutely perfect day – they are proof that things happen when they're meant to happen and when you're ready. One thing they asked us to bring was a personalised christmas decoration – so Freya and I made them a special one.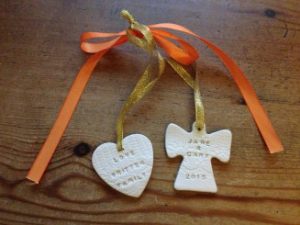 The orange ribbon represents the orange gerbera that Gary gave Jane on their first date. Awwwwww. So so happy for them. What a perfect day, here are some pics…….
Everybody loved the posh canapés! And we added some of Phil's sloe gin to the fizzy for medicinal purposes obviously which went down well, and the boys made friends with the waiters so they were well fed!
We had an amazing day, we met some lovely people – Pam and Dave from Cornwall, Terese and her new husband from near Lincoln and a really friendly family from Cologne in Germany! New people cross our paths every day – we hope to meet them all again.
Thank you so much Jane and Gary for inviting us to share your amazing day and we wish you a wonderful, fun and healthy life together!
So 2015
Coming to the end of 2015 has also made me remenis. Everyone is saying that I am looking so good – thank you – although I don't feel so good the majority of the time – I realise that compared to how I felt and looked earlier on in the year (I really did look like death was near, especially when I look back through the blog) that I do feel and look great in comparison, so I'm going to start thanking people for their compliments, even if I don't agree so much! Let's grab the positives here. Hopefully the feeling good physically will follow in time.
I was also chatting to Phil the other day about how I couldn't quite understand why I felt so so happy when we've been going through one of the worst years of our lives together. I still don't get this and I think there is something wrong with me! We have had a hellish year and still more to come but I feel so happy (and a bit of pain of course but I try not to think too much about that!). I don't feel any remorse, anger or sadness that I've been so sick.
All I can see is all the good things that have happened because of this cancer – there really has been more good than bad. It's unbelievable. I've met loads of new friends, lots of old friends have got in touch (thank you especially Caroline Miller for making me smile this week – she sent me a school project we had done together at the age of 11 and I remembered doing it! wow!).
My family are closer than ever, we've had wonderful family times.  Especially our wonderful holiday in Turkey. And from all the messages I'm getting I am sure that I am helping lots of other people along the way.
Don't get me wrong, some days it gets a bit much and I wonder how much more I can take, but I was saying to Phil that there is not one person that I know that I would want to swap my life with – yes of course it would be nice to win the lottery and not have money worries and to be able to jet around the world and stay warm all year round. But other than that I honestly couldn't think of anyone I'd rather be. Am I weird???
People often say I look too happy to be so poorly – I seriously think I'd be smiling on my death bed. I can't help it most of the time! I always thought I was normal but I'm beginning to think that maybe I'm not so, but I suppose what is normal?
Phil thinks I totally need to work in Disney even more than ever and we need to emigrate to America! Unfortunately they won't want me now as I'm contaminated and we couldn't afford my medical expenses over there anyway! Really hoping to try and save up to get us all back for a holiday for Phil's 50th in 2017! I think we all need something to aim for – not sure if it's feasible but we'll try.
I have just booked us a few days away to Norfolk in April in the caravan – it's difficult to organise time away between treatments, in school holidays and when Phil can get time off! But I'm mostly excited that I've block booked to go to Hayle in Cornwall for August! The caravan club is great as you can book and you don't pay til you go – so let's hope we can get there next summer this time!
In the meantime, I am super excited for Christmas.  I am like a jumping jellybean. We have been invited to spend Christmas day with our dear friends Jane and Andy and their family so I don't need to cook and can have a rest. Can't wait!
Freya and I have made christmas gingerbread cookies and trying to do lots of christmassy things. We've been watching Chrismas 24 whenever we get the chance! I love cheesy american christmas movies with happy endings! Boys hate them with a passion!!!! My all time favourite is "It's a Wonderful Life"……. and at the moment it really is!
Happy Christmas everyone. Especially to our friends that I know Christmas time is difficult for you.  We are thinking of you more than ever. Enjoy the holidays and thank you to every single one of you for all your support this year and continuing.  There is no way I'd be in such a good state of mind without you all x
love you all x