Hi and welcome to
Easy Peasy Lemon Squeezy
A place to inspire, share and talk everything kitchen with a side order of lifestyle and social ;)
1
2
3
Chickpea Mushroom Sweetcorn Burgers
Chickpea Mushroom Sweetcorn Burgers!
Yes indeed the best veggie burger!
I had my lovely friend coming round for lunch, but the question is what could I make her?
She's on a vegan 'ish' diet – she's so flipping healthy! She also runs bloody miles too
So a little challenge for easypeasylemonsqueezy – no worries!
These Veggie burgers are almost vegan actually apart from the egg white – my friend is allowed egg white! Phew
To Make
The full method is at the bottom but they are really easy.
You just sort of mash the chickpeas and sweetcorn!
and mix with the other ingredients and then mould – have a proper look!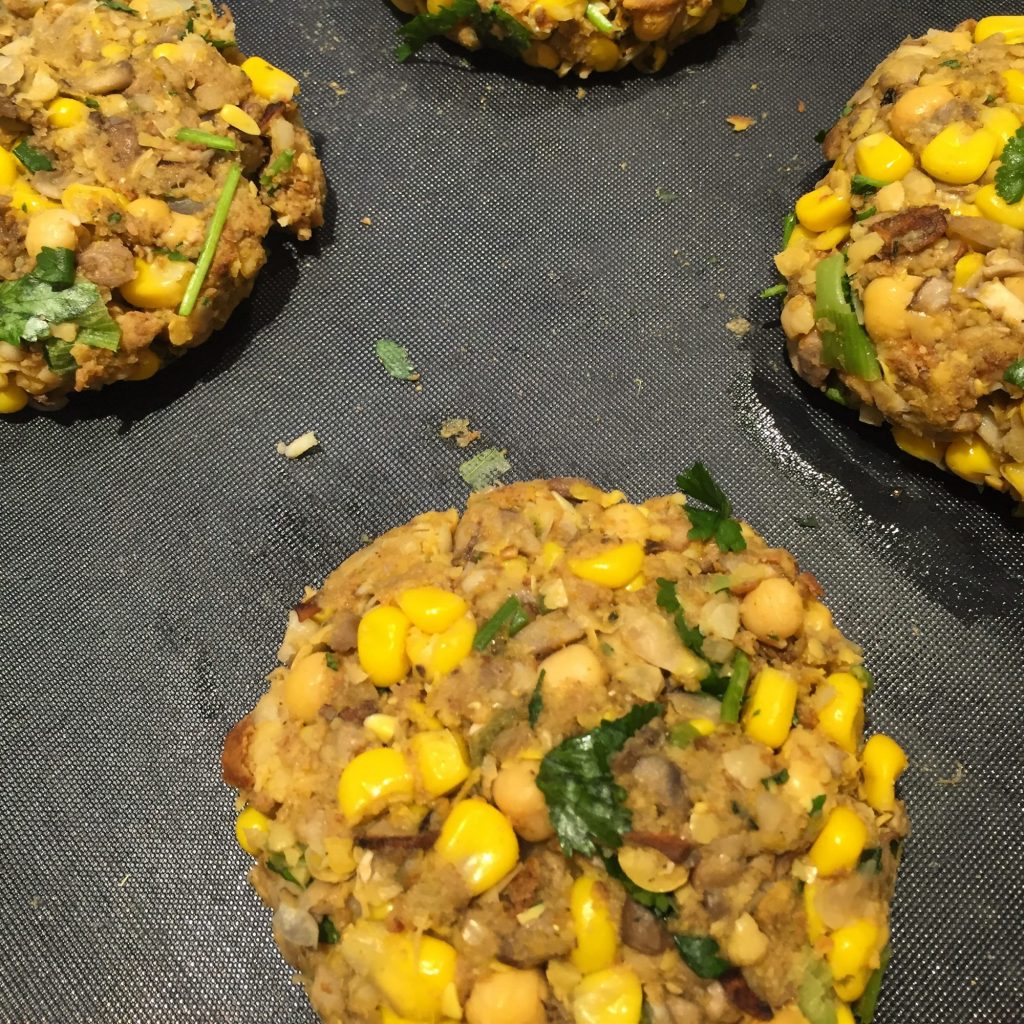 To serve
So what do you serve with a tasty burger? Well I decided on smashed avocado on a big salad?
And oh it was really delicious! Yes please…..
Best Veggie Burger
So I give you this lovely easy recipe for the best veggie burger!
So why not have a go at these lovely Chickpea, Mushroom & Sweetcorn Burgers they are simply so good and full of flavour!
(P.S – they wouldn't survive a BBQ – too fragile) just saying!!
They need very careful handling
Enjoy
Cx
Ingredients
Makes 6-8 burgers
1 Tablespoon Olive Oil
2 Cloves Garlic, peeled and finely chopped
250g chestnut mushroom, finely chopped
Bunch of Spring Onions, peeled and chopped into 1/2cm pieces
400g can of Chickpeas, rinsed and drained well
Can of Sweetcorn, rinsed and drained well
2 Teaspoons Curry Powder
Zest & juice of 1 Lime
100g fresh wholemeal breadcrumb (just grate the bread)
Handful Chopped Corriander (optional)
1 Free-Range Egg White
Salt and Black Pepper
Preparation Method
Heat the olive oil in a frying pan and add the garlic, mushrooms and spring onions, fry for 10 minutes on a high heat, string every now and then
In a large bowl, mash the sweetcorn and the chickpeas with a potato masher! Put in some effort – remember those bingo wings!
Add the fried mushrooms and spring onions to the chickpea and sweetcorn mix and mix
Add the Chopped Coriander, lime juice and curry powder
Next mix in the breadcrumbs and egg white – give it a good mix and season
Take a good handful and squish it together and then form a patty – they tend to fall apart a bit – but just squish back together.
Chill for 30 mintes
Then fry in Olive oil in a large frying pan for approx. 10 minutes – 5 on each side. Now these are really fragile – try not to break them! Use a fish slice
I served mine on top of  an avocado salad – drizzled in olive oil and lime juice