Hi and welcome to
Easy Peasy Lemon Squeezy
A place to inspire, share and talk everything kitchen with a side order of lifestyle and social ;)
Chicken Pesto & Pine Nut Pasta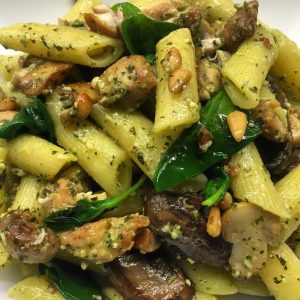 Chicken, Pesto & Pine Nut
Pasta,
 yum! 
We all love a quick pasta supper don't we? I know I do! Pasta is so versatile and so quick when you're working or have very little time. This Chicken Pesto & Pine Nut Pasta is a REALLY super easy supper. It's full of flavour and quick to make. What I would call a total babe! Everything that easy peasy lemon squeezy is all about!
Of course you don't have to use penne if you prefer you can use any shape you like, so many to choose from. Penne works so well though!
Also just a tip, make sure you get a lovely golden brown on your chicken pieces.  It really is where all the flavour is, it's the caramelisation. I love pesto with anything really (especially tomatoes) and with pasta  it adds such a great flavour and lovely texture to this supper. The addition of pine nuts goes so well and adds a lovely crunchy texture too.
Let me know how you go at this Pasta with Chicken Pesto & Pine Nuts dish and drop me a comment and let me know what you think – I soooo love your comments …..
Do you love a pasta pesto supper as much as I do – you can always leave the chicken out for a vegetarian option if you like?!
Cx
Ingredients
2 Chicken Breast fillets, cut into small pieces, 2cm x 2cm
2 Cloves Garlic, finely chopped
Salt & Freshly ground Black Pepper
200g Button Mushrooms, halved
2 Tablespoons Olive Oil
130g Pesto – I use fresh, but jarred is ok
50g Pine Nuts
400g Fresh (chilled) Penne Pasta, or whatever shape you prefer
2 handfuls of Spinach (optional)
Preparation Method
Heat a large frying pan and  add the olive oil and then the chicken pieces and garlic and season with the salt & pepper
Now this bit is REALLY important – you need to fry the chicken and get it really brown and crispy – so don't move it around the pan too much, after 10 minutes add the halved mushrooms, continue to cook until golden
Meanwhile cook the pasta in a pan of boiling water until it is ready (according on pack instructions)
Drain the pasta and return to pan , add the pesto, stir well
Add the pine nuts to the chicken pan and stir until they are a little toasted, about 2 minutes
Finally add the chicken, mushroom and garlic to the pasta and stir (why not throw a couple of handfuls of spinach in? )
Serve immediately