Hi and welcome to
Easy Peasy Lemon Squeezy
A place to inspire, share and talk everything kitchen with a side order of lifestyle and social ;)
Twisted Chicken Recipe
Cate's Twisted Chicken Recipe

Cate's Twisted Chicken Recipe
This is the lovely Cate and she is kindly sharing her recipe with us at Easypeasy-Lemonsqueezy! It's a Twisted Chicken Recipe
Cate found this recipe a long time ago somewhere on Facebook and over time has made some amendments – so anyone out there if it's yours let me know and I'll credit you!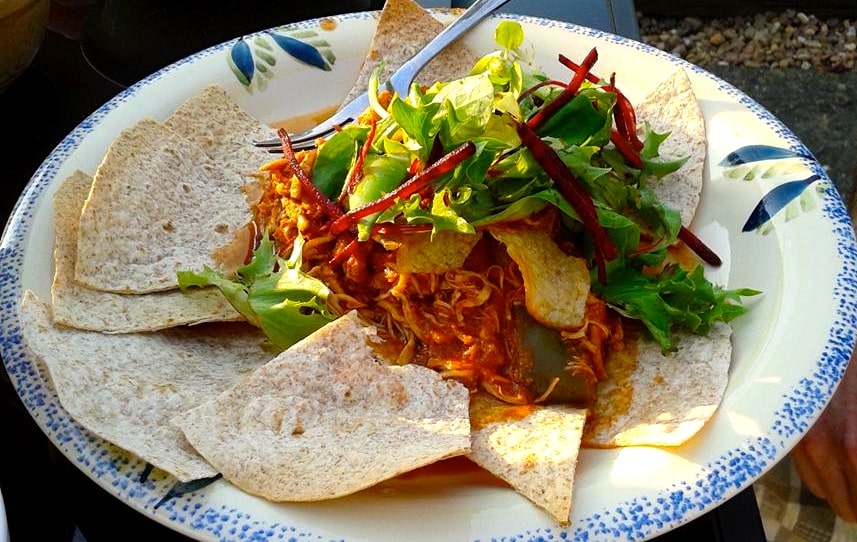 It looks flipping good to me and ready when you walk in the door after work, as it's made in a a slow cooker.
I don't ever use a slow cooker but maybe I should? Do you?
Shredded Meat
Shredding meat is so on trend and normally its pork or duck, so this is a nice change! And you could serve this as a sharing platter – I do so love sharing plates and informal eating!
(Interestingly and MANY moons ago I did Home Economics A'Level with Cate at 6th Form 😉 – so I know she knows her stuff!)
Please have a go at Cate's Twisted Chicken Recipe and let me know if you do.
Please drop a comment below the recipe if you get a mo!
If you love this I have a lot of Chicken recipes on the blog.
Just use the search box and type in chicken and see what comes up! One of my faves is my Lime Chicken with Avocado Salsa
Thanks Clare x
Ingredients
Serves 4
4 whole Chicken Breasts, skinless & boneless
1 tablespoon Paprika
1 teaspoon Sugar
1/2 teaspoon Salt and Pepper
1 teaspoon Ground Cumin
I Chicken Stock Pot
200 ml Passata
Chilli (dependent on taste)
3 Garlic Cloves
3 sliced Peppers (red, green and yellow)
2 Red Onions, sliced
1 tablespoon Olive Oil / Or Fry Light
6 Flour Tortillas
Baby Toms (2 handfulls)
Avocado (one or two)
Grated cheese (2 handfuls)
Handful Salad leaves
Preparation Method
In a slow cooker chuck in peppers, onions, chilli and passata.
Place chicken on top. Sprinkle cumin, sugar, salt, pepper, paprika, stock pot and garlic on top of chicken.
Set slow cooker on high for 4 hours. After 4 hours take chicken out and shred it with 2 forks. Return to slow cooker.
Cut each tortilla into 8 triangles, spray with oil and bake for 15 mins at 200 C
Spoon the saucy chicken on top of baked triangles. Top with grated cheese, small chunks of avocado and halved small toms and salad leaves.
EAT
Its really yummy!
Have a go at this Twister Chicken and let us know what you think!