Hi and welcome to
Easy Peasy Lemon Squeezy
A place to inspire, share and talk everything kitchen with a side order of lifestyle and social ;)
So is a week doing nothing a waste of time?
So is a week doing nothing a waste of time?
I'm a busy person – in fact I do not stop! But for 1 week every year we (me & HWDC) go to the sunshine, we have done this for 15 years, I sleep, I eat good food (fish mainly) I walk, I sunbathe and I swim. And at the end of it I feel amazing. Is this what we are supposed to feel like? Because if it is I don't for the other 51 weeks of the year.
This year particularly it has been full on with my real job (manic), easypeasylemonsqueezy and family stuff. I sit in my office, I work in my kitchen and I spend many many hours on the phone and in my car driving up and down the country and a fair bit of time in the air flying to either Denmark or Germany. If fact thinking about it makes me feel dizzy!
My skin, hair and general health has been suffering, I'm tired all the time! Well this week I'm almost embarrassed to say I have been sleeping like a rock (ok with the occasional midnight sweat 🙂 ) and then napping after lunch for a couple of hours. And what absolute bliss! I've also had time to wear face packs, pluck my eyebrows, file my nails – you know all the stuff we don't get time for and it's been heaven!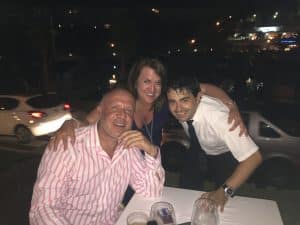 I had all sorts of things I planned to do while I've been away and actually I have done very little. I have planned some easypeasy stuff and had to work and think a little about the BREXIT decision that was made just before I left! and a couple of emergencies at work, but apart from that not a great deal…..
And do you know what – I feel alive again, the bags have reduced under my eyes, my skin has a golden glow and I don't look that bad at all for 49! 🙂 not great obviously – Joe Wicks and I are going to be very close when I get back! Prepare to get sweaty Mr Wicks! I've drunk ALOT of Champagne Sangria 🙂 Whoops
So is a week doing nothing a waste? NO not for me it's a bloody luxury
I am praying that at some point we may have a summer – let's all say a little prayer as EVERYTHING looks better bathed in sunshine
Take care & Happy Summer
Cx