Hi and welcome to
Easy Peasy Lemon Squeezy
A place to inspire, share and talk everything kitchen with a side order of lifestyle and social ;)
Simply Ice Cream – heavenly – Product Review
Simply Ice Cream – heavenly – Product Review
It must have been fate, the weather has been amazing today! And what a perfect day for 6 lovely ice creams to arrive for product review – RESULT! So this afternoon myself and four of my colleagues got stuck into 6 lovely tubs of Ice Cream. Well you know – we really had to 🙂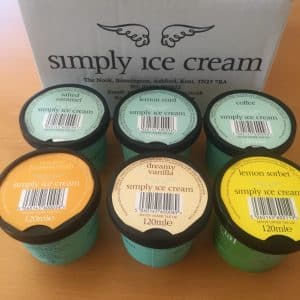 The overriding comment were 'Sooooo creamy!' Gosh they were good and every single tub was exactly the flavour it said. Not wishy washy at all, for example the coffee one was intense to start then turned so creamy, wonderful (and my personal fave). The Honeycomb Crunch variety  was also fought over – with lovely pieces of honeycomb – delicious, no wonder it's won awards! My vegan lady had the Lemon Sorbet and said it was refreshing and tangy! Overall these ice-cream are homemade and truly indulgent!  – with no artificial anything! Now that's what we want – don't we?!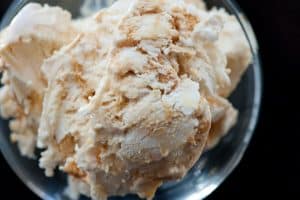 So I asked Simple Ice Creams for the story and here it is:
The Simply Story:
Who are we:Sally Newall and a small team of ice cream loving individuals.
Where are we located: We are a small company based near Ashford in Kent.
Why was Simply Ice Cream created: Sally ran a catering business for over 20 years which was in fact the spring board for the leap into the ice cream business. Incredible feedback from happy customers for her homemade ice cream led Sally to decide to move away from full time catering and concentrate on developing Simply Ice Cream into the successful, much loved brand it is today.
When did it all start: Simply Ice Cream was born in 2005 and has grown from being stocked in one local farm shop to 16 stockists in the first year and can now be found all over the country in farm shops, delis and 143 Waitrose stores. We also manufacture for Cook stores nationwide.
What is it: Our ice cream and sorbet is luxurious, delectable and delicious. The superior quality and flavour of Simply Ice Cream has been officially recognised and we have a multi-award winning range, including Heavenly Honeycomb Crunch which won a Guild of Fine Food, Great Taste Gold Three Star Award – the highest accolade possible.
How is it made (the really important bit): We believe that simple food tastes best. Our ice cream is lovingly handmade and hand whisked in small batches in the heart of Kent using only simple, natural and fresh local ingredients. We do not use artificial colours, additives or preservatives and we only use the finest ingredients and seasonal fruit.
Simply Ice Cream operates with a strong, core set of values – passion, integrity, excellence, simplicity and naturalness – and has gone from strength to strength since its creation. We are continually updating our tastes and flavours, but always in keeping with the changing seasons and high standards of Simply Ice Cream.
So my advise – pop to Waitrose and try some – see what you think! There are lots of different flavours – we tried just 6! You can buy them other places too, check out their website Simply Ice Cream
#sponsoredpost I was sent 6 tubs of ice-cream to review  (lucky me)