Hi and welcome to
Easy Peasy Lemon Squeezy
A place to inspire, share and talk everything kitchen with a side order of lifestyle and social ;)
1
2
3
Posh Bird Sangria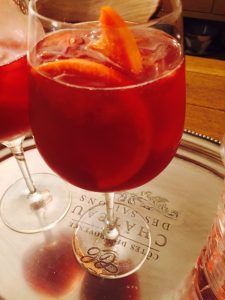 Posh Bird Sangria
Let the sun shine –  please!
Hee we have a lovely twist on a tradition sangria recipe – we called it Posh Bird Sangria, this has a wonderful blend of Strawberry Pimms and watermelon – so so good! With chopped fruit – it's almost healthy right?
The definition of sangria according to Wikipedia is an alcoholic beverage of Spanish origin. A punch, the sangria traditionally consists of red wine and chopped fruit, often with other ingredients such as orange juice or brandy. o now you know!
Have a go at our Posh Bird Sangria you won't regret it!
Big Love Cx
Ingredients
Serves 4
In an ideal world it's best to make this 1 hour ahead
Watermelon – cut into slices or little squares
Handful of strawberries – halved or quartered
1 orange – cut into sliced rounds and halved
1/4 bottle of Strawberry Pimms
1 bottle of Cava – dry not sweet
Preparation Method
Put all the fruit ( strawbs and watermelon in bite size chunks) in a jug and cover with about 150ml of Pimms.
Stir it up and leave in a fridge for at least 1 hour so the fruit soaks up the Pimms
Take out of fridge and stir the fruit again Top up the jug with Cava – about half a bottle
Fill some glasses with ice and pour Posh Bird in, adding the fruit – it's delicious to munch on when your glass is empty
Beware – don't add ice to the jug it just waters everything down