Hi and welcome to
Easy Peasy Lemon Squeezy
A place to inspire, share and talk everything kitchen with a side order of lifestyle and social ;)
1
2
3
Chinese BBQ Pork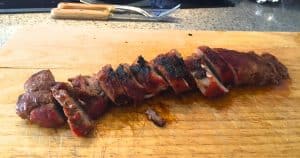 The next recipe from BBQ BOY something a bit different from the old burgers and sausages – delicious!
Ingredients
Serves 4
2 medium size pork fillets
2 in fresh ginger root (peeled)
1 large clove of garlic, crushed
2 tablespoons Hoisin Sauce
2 tablespoons dark soy sauce
2 teaspoons light soft brown sugar
1 teaspoon five-spice powder
2 tablespoons sunflower oil
2 tablespoons clear honey
Preparation Method
Finely grate the ginger, & squeeze out the juice into a non-metallic dish.
Add all the marinade ingredients into a large bowl, stir together well.
Add the pork filets & make sure they are coated well in  the marinade.
Cover & set aside for a couple of hours or overnight in the fridge.
Barbecue the pork filets over medium hot coals, for about 25 – 35 minutes depending on size or until the inside is blush pink.
Cover with foil & rest for at least 10 minutes before serving, this way it will be cooked without being dry.
Good with hassleback potatoes & a green salad.