Hi and welcome to
Easy Peasy Lemon Squeezy
A place to inspire, share and talk everything kitchen with a side order of lifestyle and social ;)
1
2
3
Cherry & Chocolate Chip Biscuits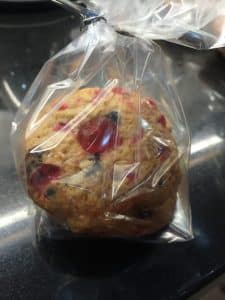 Cherry & Chocolate Chip Biscuits
These yummy biscuits are so quick and easy to make! Why not get the kids in the kitchen cooking – these would be perfect to start with. AND they can then eat them
Have a go and let me know how you get on
Thanks Clare
Ingredients
225g (8 oz) Self Raising Flour
pinch of salt
170g (6 oz) Butter
110g (4 oz) Golden Caster Sugar
1 beaten egg
75g Plain Chocolate Chips
100g Glace Cherreis then a few more halves for the top decoration
Preparation Method
Preheat oven 180 C/ 350F / Gas 4
Sift flour and salt into a bowl, then rub in the butter until it resembles breadcrumbs.
Add sugar, Chocolate chips and chopped cherries
Add the beaten egg and mix into a stiff dough, turn out onto a floured surface and knead gently until smooth.
Wrap in cling film and chill in the fridge for minimum 30 mins.
Remove from the fridge and cut in 5mm – 10mm slices (makes about 20 biscuits)
Place these rounds on baking tray slightly press down – Do not place them to close or they'll stick together
Pop a half Glace Cherry on top of each biscuit – push down
Bake in oven for about 15 mins until golden.
Enjoy!