Hi and welcome to
Easy Peasy Lemon Squeezy
A place to inspire, share and talk everything kitchen with a side order of lifestyle and social ;)
1
2
3
4
5
6
Berry Biscotti – Ben's Recipe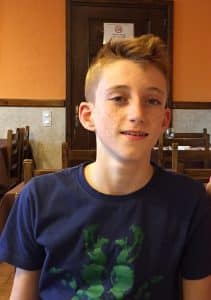 Ben's Berry Biscotti
Have you made biscotti before? If not then why not?
Have a go at these lovely berry ones. It's Bens recipe and they really are great dipped in a lovely cup of coffee! These have dried Cherries, Cranberries, Mixed berries – you can use what you like – dried blueberries whatever! I like to include pistachios as well as almonds as the green makes them look so pretty and well as taste delicious!  I love them at Christmas time but they are perfect just to have in a biscuit jar on the side in the kitchen
According to Wikipedia they are known also as cantucci, are Italian almond biscuits that originated in the city of Prato. They are twice-baked, oblong-shaped, dry, crunchy, and may be dipped in a drink, traditionally Vin Santo.
They are so good and they make lovely gifts when packaged in lovely bags and tied with ribbons
Let me know what you think – Ben's Berry Biscotti simply lovely!
Thanks Clare x
Ingredients
350g Plain Flour
2tsp Baking Powder
2tsp Mixed Spice
250g Caster Sugar
3 Eggs, beaten
Zest of 1 orange
85g Raisins
85g of any of these dried berries ; Cherries, Cranberries, Mixed berries
50g Blanched Almonds – bashed about a bit in a pestle & mortar
50g Shelled Pistachios – you can get shelled and crack open yourself but NOT Salted ones
Preparation Method
Preheat Oven is 180C/350F/Gas 4 Line 2 baking trays
Mix flour, baking powder, spice and sugar in big bowl or mixer.
Add eggs and zest in – it will look a bit like crumble mix. Bring it together using your hands so it goes more clumpy. It feels a bit dry but just keep kneading it until all the flour is totally mixed in.
Add the nuts and dried berries and mix it all together either with hands or in the mixer. Put on a floured work surface and split into 4 even size pieces
Flour your mitts and roll into sausage shapes – each one about 20cm -30cm
Put 2 on each lined  baking tray – not too close to each other because they will grow in size. Bake for 25 (if you have an AGA then they go on bottom grid shelf with cold tray on 2nd set of runners from the top)  They should feel firm but will still be a bit pale. The mix needs to be cooked in the middle.
Take out and turn oven down to 140C  ( leave AGA door ajar for 5-10mins!) .
Leave to cool for 10 mins then slice them up on the diagonal using a bread knife.
Each slice should be about 1cm thick.
Lay the biscotti back on the baking tray on their flat side and put back in oven for about 8-10mins. Take them out and turn them over onto the flat side and bake again for 8-10mins. Leave to cool and hey presto, lovely crispy crunchy biscotti perfect for dunking in luscious tipsy hot chocolate.
Store them in an airtight tin for 1 month or pop into little bags and use to bribe teachers or the Boss